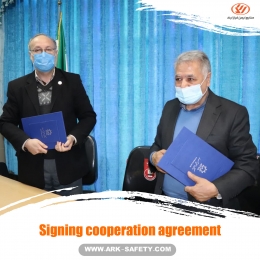 Signing cooperation agreement between Ark Safety Industry and Sahand University of Technology of Tabriz
With the increasing development of industry and the increasing need for science to advance technology, the relationship between industry and academia has become an irreplaceable thing in the world. The first issue in academic innovation is its commercialization with the help of industrial units. In addition, there are always problems in production and industrial complexes that can be prevented from harming with the help of the university and can even become a valuable opportunity for the development of production units.
Ark Safety Industries Company, considering the potentials and interest of the managers and specialists of this group in product development and technology promotion, has considered the relationship between industry and university as an opportunity and has always been a priority. Fortunately, the proximity of this industrial unit to Sahand University of Technology of Tabriz, which is one of the proudest scientific-research complexes in the country and is considered as a scientific hub in the field of chemical and polymer engineering at the national level. It was decided to sign an agreement of cooperation between Sahand University of Technology and Ark Safety Industries in order to expand consensus and joint scientific-research and educational cooperation and to upgrade capabilities as well as strengthen and establish a systematic relationship.
The purpose of preparing and implementing this agreement is to expand cooperation between the university and the company in scientific-research and educational fields and development projects, especially in the field of production of industrial, safety, military shoes and completing the value chain, taking into account all facilities and authorities. The parties, including technical, production, human and information, experience and expertise are in accordance with the following areas of cooperation:
1- Forming joint specialized committees between university and company experts to exchange views, review and initial evaluation of problems in production, research and development, quality control and technical and engineering units of the company and the participation of Sahand University of Technology as the company`s research arm.
2- Reflecting the research priorities and technological needs of the parties to each other
3- Carrying out research and technology studies in the field of developing technical knowledge and transferring the technologies required by the company
4- Cooperating in order to hold joint meetings or relevant specialized conferences and workshops
5- Participating in company development projects
6- Holding short-term training courses in order to enhance the scientific ability of the company`s experts and researchers, as well as university professors and students.
7- Benefiting the parties from each other`s facilities such as intellectual, experimental, research, laboratory, workshop and library capabilities.
8- Providing the possibility of visiting laboratories and scientific-research units to create areas of joint cooperation
9- Cooperation and support in holding conferences with the permission and agreement of the parties