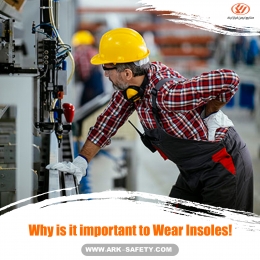 Why is it important to Wear Insoles!
Foot aches and pains are among the most common complaints, but in a work environment where walking and standing on hard surfaces is common, the issue can become much larger and potentially lead to safety issues. Foot fatigue amongst workers can lead to distracted working and contribute to safety issues like slips, trips and falls. These types of incidents account for 67% of all WSIB claims. So how do you help reduce foot strain and fatigue on the job? The answer is insoles.
Insoles are one of the most underrated methods to help workers reduce foot, leg and back strain and can become an important part of employee health & safety on the job. Insoles provide an additional layer of comfort, shock absorption and support, specifically for the arch of the foot. Because feet are the foundation of the body, wearing insoles can help relieve foot, leg and back strain and help reduce overall MSDs (musculoskeletal disorders). And less strain and pain can improve the productivity of employees because they can stay more focused on their work. Whether you are an employee or an employer there are many benefits for workers wearing insoles while on the job and providing them as part of a health & safety program.
Things You Need To Know About Insoles
Insoles are more effective than anti-fatigue floor matting because the support and comfort of insoles stay with the worker wherever they go and, insoles can be customized to the individual's needs vs. floor matting which is a one-size-fits-all solution for all workers.
Insoles can help give balance to the arch of your feet, improve posture and stabilize overall stride on a daily basis, which will reduce leg, knee and back strain. Using insoles can improve overall toe strength and prevent you from straining other tendons in your feet.
Leather medical insoles in Ark Safety Industries products!
Ark Safety Industries applies all the necessary standards in the products. High quality raw materials, high safety standards, high durability, ergonomics and comfort are among the items that are always considered in the production. However, for more convenience and enjoyment of the mentioned benefits, it is recommended to be sure to add leather medical insoles when ordering products.