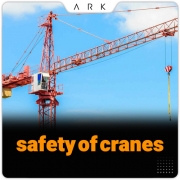 safety of cranes
The necessity of learning the safety and hazards of cranes
Cranes are one of the engineering phenomena as well as a fundamental component of many industries like construction, manufacturing, warehousing, etc. Protecting the crane operators and those around them require extensive training and compliance with determined standards. Crane safety is an important part of overall workplace safety and working with cranes properly can cause different meanings between life and death.
From 1989 to 2009, 86 incidents were identified. The reason was the collapse or failure of major structure of the tower crane. Also, between 2011 and 2017 the Bureau of Labor Statistics reported crane incidents resulted in the deaths of 279. More than these deaths were caused by workers colliding with objects or equipment, and more than 20% were related to the negligence or ignorance of the crane operator. These statistics demonstrated the necessity of crane safety in all processes, including handling, commissioning, equipping, and lifting. Hence if cranes and other lifting equipment are being used at work, awareness of hazards as well as comprehension of measurement to reduce hazards and save lives is crucial to ensure employee safety.
According to the Occupational Safety and Health Administration (OSHA), cranes consist of a large group of construction machinery used to lift and lower suspended loads and move them horizontally.
A significant step for employers in the workplace is having an exact safety plan for the crane which is used.
The advantage of having the plan is identifying potential crane-related hazards and finding ways to eliminate or control risks.
The article is included the key point about any crane safety plan.
Common crane hazards
Using cranes can lead to numerous hazards. Unsafe working practices can cause injuries, deaths, and costly damage to buildings and materials. Therefore, it is important for operators and workers who use cranes to become aware of crane hazards.
Several risks related to the cranes
Electrical hazards
Each year about 200 deaths result from cranes` contact with powerlines. Among all types of cranes, approximately 50% of electrocution accidents are associated with overhead cranes (resulting from contact of a metal piece of crane with a high voltage power supply). Operators, employees directly contacting the cranes as well as workers around it are exposed to the risk of electrocution.
Falling the load
Falling the load is one of the most dangerous hazards in construction when using overhead cranes. Workers must avoid working under the cranes but if it`s not possible for them they should use hard hats and appropriate personal protective equipment (PPE).
Some reason of falling the load from overhead cranes:
Crane overload
Most structural failures of the crane result from the overloading of crane tolerance. Crane operators and those loading the cranes must know the allowable crane load. Overloading a crane can cause overturn or fall of the load, which can have destructive consequences.
Incorrect loading of cranes:
• Loads of hoists exceed the capacity of cranes.
• Swing or leaving the load suddenly.
Movement of cranes
Transporting the load takes place by the movement of a crane. That situation has the potential to damage workers in the workplace.
Crane components and their hazards
Hook
Risk of this part: opening hooks, burst, and abrasions.
Wedge Sockets
Risks of this part: Wire size, looping wire, and not tightening the wires properly.
Sheaves
Risk of this part: Not placing the rope wire, the holders not working properly, the screws not being tightened properly, and damage or wear.
Boom
Risk of this part: hydraulic leakage, destruction around the boom, fractures or cracks.
Fluids
Finishing or reducing the level of all liquids in the crane.
Tires
Risk of this part: No wind, cuts, bumps, or abrasions.

Variety of cranes
• Vehicle Mounted Cranes

Personal protective equipment for working with crane
Identifying the crane`s personal protective equipment (PPE) and eliminating hazards related to cranes is crucial. In spite of measurements being taken,100 percent safety is not possible. According to the crane`s risk and crane`s load, PPE is selected. Therefore, PPE is unique for each workplace and each load. Some of the PPE mentioned below also could change in different situations.
Hard Hats
It is impossible to predict when something falls from the crane. Hard hats should be (worn by workers who use the crane as well as those around it.
Eye Protection
The operator should always see what their self is doing. It is better to stop their work in a contaminated environment and dusty.
Hand Protection
Wearing protective gloves can reduce injury or crush workers` hands when they are loading and unloading.
Safety tips for working with cranes
1. Training all employees.
2. Refrain from standing under the crane.
3. Doing maintenance and repair monthly, and quarterly.
4. Monitoring when cranes are working.
5. Select appropriate PPE.
6. Hazard warning signs should be placed. risk warning signs should be taught to workers.
7. Make a plan before initiating.
8. Stop working with the crane in high wind and rainy conditions.
9. Checking soil or ground condition.
10. Permit work for a person who has a license.